Temperature regulated mattress topper
Keep your current mattress. Our ultra-comfy, water-based cooling and warming mattress topper precisely controls your bed temperature ranging from 55-115°F, so you sleep at your ideal temperature.
Active cooling ChiliSleep sleep systems
Shop All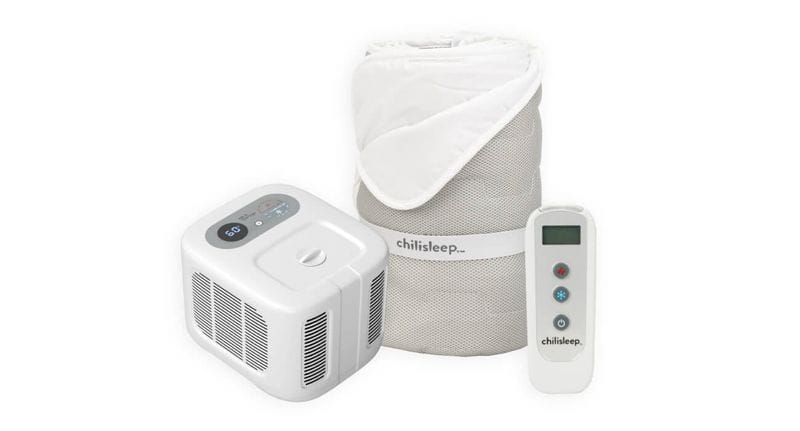 Dock Pro Sleep System
Perfect if you want your existing mattress to be really cold. Pairs with our optional non-wearable sleep tracker to provide real-time, AI-driven temperature adjustments
Learn More
Cube Sleep System
A thermostat for your bed. Perfect if you want a single bed temperature all night long. Simple & easy to use.
Learn More
Not sure which ChiliSleep system is right for you?
Choose from Dock Pro, OOLER & Cube sleep systems.
We've helped over 150,000 customers...
What ChiliSleepers Say...
Did you know?
Cool = Better Sleep.
Backed by science: Sleeping cooler cues our brain to fall asleep faster, sleep deeper and wake up feeling rested and refreshed.
Free Shipping
Shipping is Free to 48 Contiguous States
Worry-Free Returns
Experience a 90-night Sleep Trial with the Dock Pro system or try the Cube System with a reassuring 30-night Trial.
Limited Warranty
1 Year Warranty on Sleep Systems
Safe Checkout
Safe & Secure Checkout
Testimonials
Testimonial number 1
David Nurse
NBA Life Optimization Coach, Motivational Keynote Speaker, Best Selling Author
"I have tried everything to enhance sleep and ChiliSleep is the only product that ensures I will wake up the next day FULLY rested and recharged."
Testimonial number 2
Dr. Kelly Starrett
Doctor of Physical Therapy, author, speaker, CrossFit trainer and co-founder of The Ready State, formerly MobilityWOD
"My sleep quality and numbers have improved again! I didn't think this was possible! This is the future of sleep."
Testimonial number 3
Dave Asprey
Founder of Upgrade Labs & known as the 'Father of Biohacking'
"One easy way to get more sleep in less time is to regulate your temperature. Chilisleep systems help lower your body temperature to trigger deep sleep. So get cool!"
Testimonial number 4
Angi Fletcher
Holistic fitness trainer and educator
"If I would've known about this when I was pregnant and nursing it would've been a game changer with my fluctuating hormones!"
Testimonial number 5
Amy Myers M.D.
"Since I started using ChiliSleep products I get the deepest sleep, my recovery has improved and I am not constantly kicking off the covers because of hot flashes."
Beyond Sleep Hardware
Explore expert-curated sleep and wellness content, fitness strategies, individualized coaching + recovery plans, and so much more.
The latest in sleep tech & education straight to your inbox