Our Sleep Systems Will Help You Sleep Better
The science is clear. We sleep deeper with increased recovery at a cooler body temperature. Our sleep systems leverage water's thermal powers so you can sleep at your ideal temperature throughout the night to provide better sleep, guaranteed.
We promise you will...
Never wake up sweaty again.
89% of sleepme customers say they sleep cool or neutral thanks to our sleep systems. Banish hot flashes & night sweats for good.
Get the deep sleep you crave.
95% of sleepme customers report improved sleep while using our systems. Not surprising since science proves we sleep deeper when we sleep cool.
Wake up rested & energized.
96% of sleepme customers use our systems year round as a sleep solution. Getting better sleep each night lowers anxiety and stress as well as a host of other health issues.
Temperature regulated mattress topper
Our ultra-comfy, water-based cooling and warming mattress topper precisely controls your bed temperature ranging from 55-115°F, so you sleep at your ideal temperature.
Integrates easily with multiple mattress types and heights without compromising mattress comfort.
Circulates water via the control unit.
Easy to install and is 100% machine washable and dryable.
Has no electrical connections or wires, therefore zero EMFs.
Designed for one sleeper or two
Do you and your sleep partner like to sleep & sleeping at different temperatures? Stop fighting over the thermostat and explore our dual-zoned (WE) option instead.
Only need temperature control for one side of the bed? Select a half-bed, single-zone option (ME) for about 50% of the price.
Note: for adjustable beds, we recommend two MEs if you want temperature regulation on both sides of the bed.
Schedule automated temperature changes
The Dock Pro allows you to schedule precise temperature changes to match your preferences for a warm or cool bed. Flip your "sleep switch" with warmth to trigger sleep, then schedule cool comfort for deep sleep support all night long.


— or let us do it for you.
Take out the guesswork out of choosing the correct temperatures. Get real-time, AI-driven temperature adjustments based on your current sleep metrics (Dock Pro and our Sleep Tracker required).
Chilisleep Sleep Systems
Starting at $1,149
State-of-the-art Technology
Dock Pro
Most powerful & personalized
All the benefits of the Cube plus:
Rapid cooling & warming
ChiliPad Pro mattress topper with enhanced comfort & performance
Schedule temperature adjustments throughout the night
Pairs with our non-wearable sleep tracker to provide real-time, AI-driven temperature adjustments
Shop Dock Pro
Starting at $649
The Original
Cube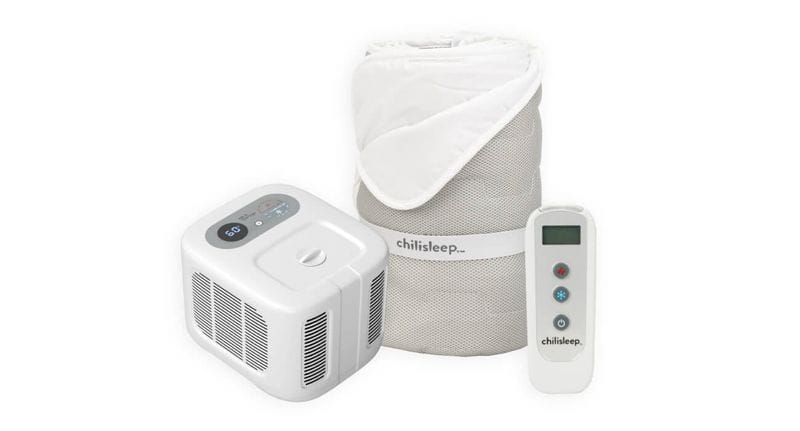 Single temperature system
The system that put Chilisleep on the map
Industry leading temperature range of 60°F - 115°F
Cool mesh mattress topper with circulating water
On-device controls for simple temperature changes
Easy to set up and 100% machine washable & dryable
Shop Cube
The Benefits of Sleeping at Cooler Temperatures
Learn more
Did you know that sleeping cool at night provides plenty of benefits? We'll take a look at the advantages and why you should be sleeping in cooler temperatures.
Why Do I Get So Hot When I Sleep?
Learn more
Do you go to bed at a comfortable temperature and then sweat? Why does this happen? Does medication cause night sweats? Does anxiety lead to sweaty sleep? Find out all the answers and learn how to get a great night's sleep.
Stay up to date to receive exclusive discounts, sleep tips and the latest in sleepme news.