Be Mindful of Your Health
You are new parents and have a baby now -- it's more important than ever to be at the top of your health game. Just like finding time to exercise isn't selfish, neither is choosing better-quality fuel for your body. Focus on eating a rainbow of fresh foods.
Choose Foods High in Vitamin C
Oranges
Strawberries
Grapefruit
Kiwi
Broccoli
Spinach and other leafy vegetables
Red and Green Bell Peppers
Eat Foods High in Tryptophan
Lean Turkey and Chicken
Eggs
Sunflower and Pumpkin Seeds
Milk
Oatmeal
Eating healthier and limiting alcohol will improve your immune system and improve your sleep quality, which can also help you lose weight. Unfortunately, alcohol disrupts sleep as it raises your body's internal temperature, which leads to poorer sleep quality. This can reduce REM sleep (i.e., the best "fat-burning" sleep phase).
When the body is well-rested, it can replenish glycogen stores, reduce inflammation, boost motor skill development, and balance hormone levels naturally.
Create a Consistent Sleep Schedule
Creating a disciplined sleep routine will pay off in future years. Once your baby starts sleeping through the night, next, you'll be asking how much sleep do older children need. By establishing consistency from the beginning, you're instilling good "sleep hygiene" for the whole family.
What you're aiming for now, mom and dad, is sleep quality instead of sleep quantity.
Recently published in the journal Scientific Reports, it highlights that adults not only need to be getting enough quality sleep every night, but adults also need to maintain a consistent sleep routine. [2]
How Do You Know If You're Sleep Deprived?
It's been shown that diminishing your rest quality can contribute to symptoms of sleep deprivation. Listed below are a few signs that you may be sleep-deprived.
Have difficulting focussing
Feel tired, fatigued during the day, and irritable
Difficulty getting out of bed
Feel drowsy throughout the day
Experienced mood changes include feeling anxious, stressed, paranoid, or depressed
Read More: Sleep-Deprived Moms; How to Get Better Sleep
Evening Routine That Will Boost Your Sleep Quality
Are you looking for ways to boost the quality of your sleep with a newborn? The below tips will help you.
Embrace the Joy of Missing Out
The opposite of FOMO (fear of missing out), a lot of parents develop a taste for JOMO or the joy of missing out when they realize that accepting a late-night dinner invitation isn't worth the inevitable exhaustion the next day.
Honoring your circadian rhythm, which helps to regulate your body's temperature, heart rate, hormone production, organ function, and sleep cycle, will convince you that sticking to a "boring" routine surprisingly feels great!
Dim the Lights.
After you swaddle your baby and turn off the lights in the nursery, try to do the same in your bedroom. At the end of the day, your brain craves cooler, darker temperatures to sleep.
Although we no longer sleep outdoors, our bodies still expect the sun to go down and the environment to cool.
Whether from your phone or TV -- either can alter your body's sleep signals, so put those phones away and turn off that late-night T.V. binge. Learn more on how blue light affects sleep.
Slow Your Racing Mind
Now that you've prepped your bedroom for a good night's sleep, take some time to slow your racing mind. Start by focusing on your breathing. If you need help, download soothing sounds or try yoga Nidra (there are some great free samples online).
Our Yoga Nidra expert Talei Allen recommends first becoming aware of sound, then noticing that there are different layers of sound. Talei has taught that smooth, slow abdominal breathing signals the nervous system to relax and return to a rhythm of healing, clarity, and freedom.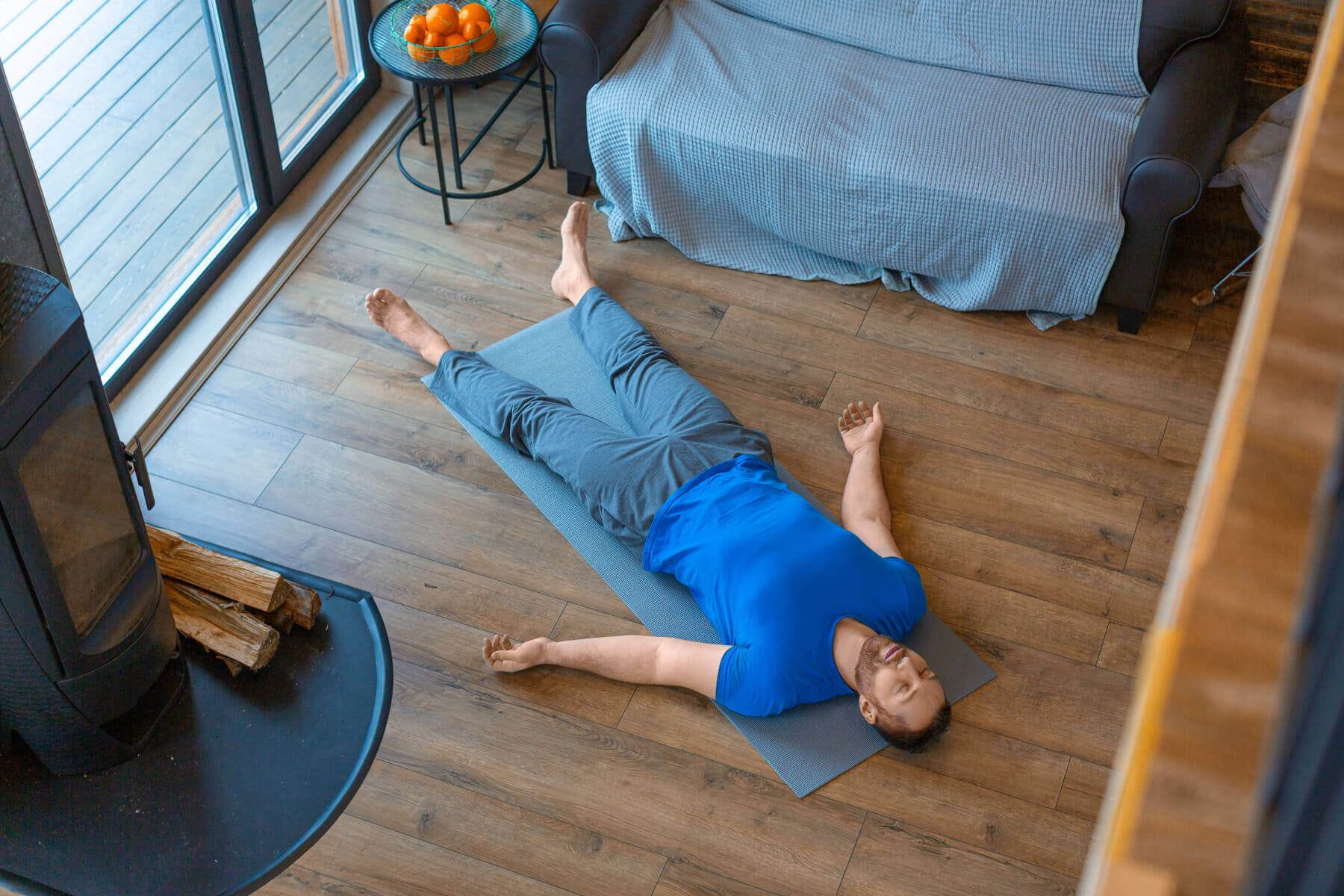 Yoga Nidra for Sleep
Want to learn more, read Yoga Nidra for Beginners. Give Yoga Nidra a try with one of the meditations below.
Sleep Cooler
If you sleep hot or sleep next to a hot human furnace, you know that even with the tips above, your sleep quality can suffer. The key to unlocking the deepest sleep lies in temperature regulation.
Our cooling mattress pads -- Cube, OOLER®, or chiliBLANKET -- drop your temperature for more restful sleep and slowly warm you up at the appropriate point in the early morning.
Sleep Deprivation: Better Sleep Ahead
Maybe you've heard the cliche "the days are long but the years are short" and thought "Nope, nothing about parenting a baby feels short or easy." Take my word for it, one day you'll look back and in the blink of an eye, your baby will be a soundly sleeping toddler.
As a new parent, you may not always get the necessary hours of sleep. But using the tips above, you will certainly boost your sleep quality.
Sleep deprivation and newborns, the struggle is real! I like to say that a well-rested parent is a happier parent.